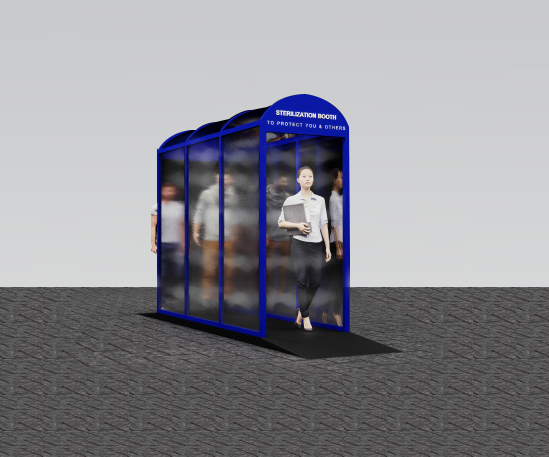 Disinfection Tunnel | Sanitation Tunnel
Safe Equiment Trading LLC is engaged with the supply & installation of disinfection spray booth which is customized in size as per Site requirement.
Our GermEX Walk Through Booths is designed to provide optimum disinfection and adequate usage of the disinfectant reducing liquid loss. Drain can be provided to ensure easy cleaning and liquid disposal.
We give a sensor activation system that will activate the system only in case of occupancy.
Using Dm Approved disinfectant which is safe for kids and pets we strive to provide the best disinfection solution in the market and Quality and safety are our first priority.
Available in various color options and clear/tinted cabin finish.
Specification
Overall Sizes: 2.4m Long X 2.2m Ht X 1m Wide ( walkway )
MOC: Mild steel heavy base with tray and drain outlet,
Aluminum frame with Clear Acrylic Cage
NO of Nozzles 14 Nos
Type : High pressure Fogging
( 6 nos left, 6 nos right, 2 nos overhead )
Motor details : 180W, 220V, 60LPM
Rubber anti-slip draining carpets on the floor, ascending & Descending ramp both sides
Sensor activated on entry,
Working time: 10 seconds
Disinfectant: Bioguard 63A01  ( Culligan )
Including adapter from the disinfectant tank, all hoses from tank to motor, high-pressure hoses from the motor to all nozzles