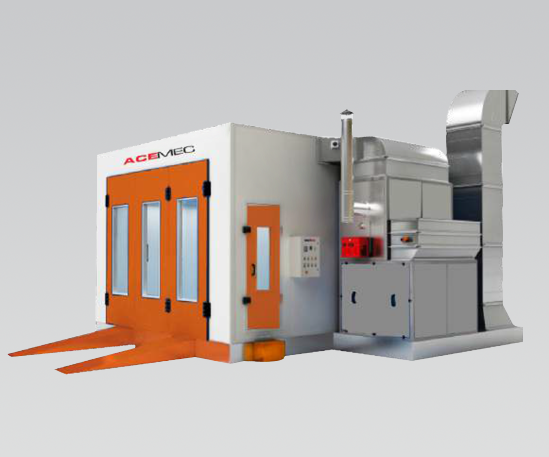 Automobile Spray Booth in UAE
Automobile Spray Booth that is customized and designed as per client specifications are supplied all around UAE by ACEMEC. They are incorporated with up-to-date amenities and features. Being durable and efficient, these are suitable for small and large industries.
At ACEMEC, we have a large selection of Automobile Spray Booth for refinishing the body of your car or any other vehicle. Our booths are known for their excellent quality, durable construction, and extended service life. The booths are available in a variety of dimensions and sizes. We are capable of supplying 1ST QUALITY Automobile Spray Booth in UAE.
Selecting an Automobile Spray Booth?
To select an appropriate painting booth, you must first determine the dimensions of the components or goods to be painted and then select a booth that is large enough to accommodate and manage them. You'll also want to make sure your booth has ample space and ventilation.
After you've decided on the size, you'll need to decide on the filter type based on the application process:
In most liquid applications, a dry filter paint booth with an exhaust fan pulls surplus paint to a particle-capturing filter bank situated in the booth walls or in the floor pit is used.
Powder application methods typically require multiple layers of filtering, culminating in either a bag house filter or a powder collector, with no need for air to be evacuated outside the building.
ACEMEC Spray Booths offers Best Automobile Spray Booth in UAE, we also deal with Booth Installation and Relocation Services Dubai, UAE. Based in Dubai, we are located centrally to serve a customer base across the United Arab Emirates.
Our range of services include Installations, Relocations, Maintenance and Error Rectification. We offer these best Spray Paint Booth services from all leading paint spray booth manufacturers.
Who we are?
We   ACEMEC,   Suppliers of the Best  Spray paint booth installation in UAE, have a proven track record of delivering well-designed, cutting-edge paint booths and equipment that meet your needs.
We work with our customers on a variety of projects and return time and time again to service their equipment, update their finishing lines, and replace old booths.
We take great care in instructing our customers on how to use the equipment and technology we install, and we stay up to date on industry trends. We aspire to provide the highest quality Spray paint booth installation in UAE.