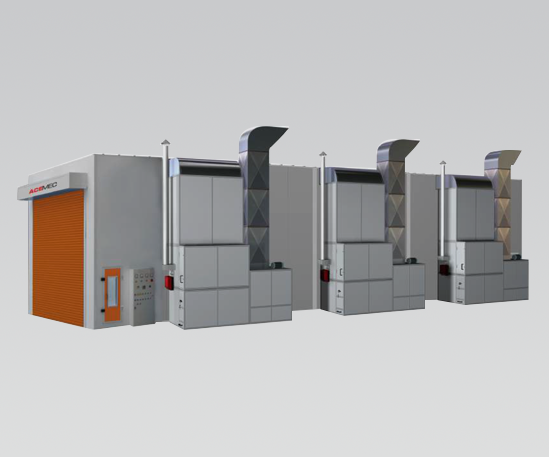 Truck and Bus Spray Booth in UAE
NO:1 QUALITY  Premium SPRAY BOOTHS are supplied around UAE by ACEMEC. ACEMEC Spray Booths carry out spray booth installations nationwide.
Our Truck and Bus Spray Booth installation team carry out paint spray booth installations daily and travel throughout the country. According to individual customer requirements, we work on both a main contractor and sub contractor basis.
With a team of experienced fitters, we aim to manage the process end-to-end and keep outsourcing too a minimum. We are highly experienced in paint spray booth installation and offer this service for both new and used spray booths.
Our Truck and Bus Spray Booth installation services include all related electrical, gas and mechanical installation, duct work and building alterations.
Our staff are highly skilled in spray booth installation, training and accreditation including current CSCS, IPAF, PASMA and FLT tickets, high risk confined space qualifications and advanced first aid for the welfare of our teams on site.
Key Technical Specifications of Truck and Bus Spray Booth
Steel panels that have been pre-coated in white or that have been galvanized.
Various width and length combinations are available.
Color-correcting fluorescent light fixtures.
Intake and exhaust air filtration are both doubled.
Filters for full-width ceilings.
Gas, oil, steam, or electricity are all options for heating.
ACEMEC Spray Booths offers Best Truck and Bus Spray Booth installation in UAE, we also deal with Booth Installation and Relocation Services Dubai, UAE. Based in Dubai, we are located centrally to serve a customer base across the United Arab Emirates.
Our range of services include Installations, Relocations, Maintenance and Error Rectification. We offer these best Spray Paint Booth services from all leading paint spray booth manufacturers.
Who we are?
We   ACEMEC,   Suppliers of the Best  Spray paint booth installation in UAE, have a proven track record of delivering well-designed, cutting-edge paint booths and equipment that meet your needs.
We work with our customers on a variety of projects and return time and time again to service their equipment, update their finishing lines, and replace old booths.
We take great care in instructing our customers on how to use the equipment and technology we install, and we stay up to date on industry trends. We aspire to provide the highest quality Spray paint booth installation in UAE.