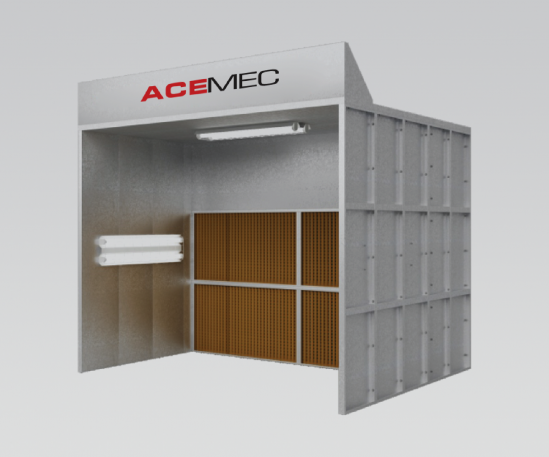 Open Face Spray Booth in UAE
100% flexible Affordable Open Face Paint Booths are better solutions for a variety of finishing packages. The open  design saves valuable floor space while allowing for simple movement of merchandise and elements in and out of the booth. Choose from 260 pre-engineered versions with quick shipping, or have a   custom designed booth to meet your needs
Booths with an open front draw air in through the open front and exhaust it through the back wall filters.
Features of Open Face Spray Booth
Open type Workstation
Fluorescent Lighting
Better Gauge Steel
Bolt-together Design
White or Galvanized Finish
ACEMEC Spray Booths offers Best Open Face Spray Booth installation in UAE, we also deal with Booth Installation and Relocation Services Dubai, UAE. Based in Dubai, we are located centrally to serve a customer base across the United Arab Emirates.
Our range of services include Installations, Relocations, Maintenance and Error Rectification. We offer these best Spray Paint Booth services from all leading paint spray booth manufacturers.
Who we are?
We   ACEMEC,   Suppliers of the Best  Spray paint booth installation in UAE, have a proven track record of delivering well-designed, cutting-edge paint booths and equipment that meet your needs.
We work with our customers on a variety of projects and return time and time again to service their equipment, update their finishing lines, and replace old booths.
We take great care in instructing our customers on how to use the equipment and technology we install, and we stay up to date on industry trends. We aspire to provide the highest quality Spray paint booth installation in UAE.