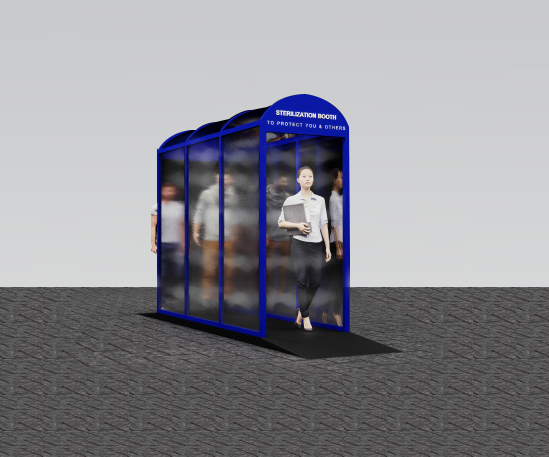 Sanitation / Disinfection Tunnel
Safe Equipment Trading LLC is engaged with the supply & installation of Disinfection Tunnel spray booth which is customized in size as per Site requirement.
Our  Disinfection Tunnel GermEX Walk Through Booths is designed to provide optimum disinfection and adequate usage of the disinfectant reducing liquid loss. Drain can be provided to ensure easy cleaning and liquid disposal.
We give a sensor activation system that will activate the system only in case of occupancy. We ACEMEC provides  100% best Tunnels all around UAE.
Using Dm Approved disinfectant is used in the Disinfection Tunnel which is safe for kids and pets we strive to provide the best disinfection solution in the market and Quality and safety are our first priority.
Specification of Sanitation / Disinfection Tunnel
Overall Sizes: 2.4m Long X 2.2m Ht X 1m Wide ( walkway )
MOC: Mild steel heavy base with tray and drain outlet,
Aluminum frame with Clear Acrylic Cage
NO of Nozzles 14 Nos
Type : High pressure Fogging
( 6 nos left, 6 nos right, 2 nos overhead )
Motor details : 180W, 220V, 60LPM
Rubber anti-slip draining carpets on the floor, ascending & Descending ramp both sides
Sensor activated on entry,
Working time: 10 seconds
Disinfectant: Bioguard 63A01  ( Culligan )
Including adapter from the disinfectant tank, all hoses from tank to motor, high-pressure hoses from the motor to all nozzles
ACEMEC Spray Booths offers Best Sanitation / Disinfection Tunnel in UAE, we also deal with Booth Installation and Relocation Services Dubai, UAE. Based in Dubai, we are located centrally to serve a customer base across the United Arab Emirates.
Our range of services include Installations, Relocations, Maintenance and Error Rectification. We offer these best Spray Paint Booth services from all leading paint spray booth manufacturers.
Who we are?
We   ACEMEC,   Suppliers of the Best  Spray paint booth installation in UAE, have a proven track record of delivering well-designed, cutting-edge paint booths and equipment that meet your needs.
We work with our customers on a variety of projects and return time and time again to service their equipment, update their finishing lines, and replace old booths.
We take great care in instructing our customers on how to use the equipment and technology we install, and we stay up to date on industry trends. We aspire to provide the highest quality Spray paint booth installation in UAE.