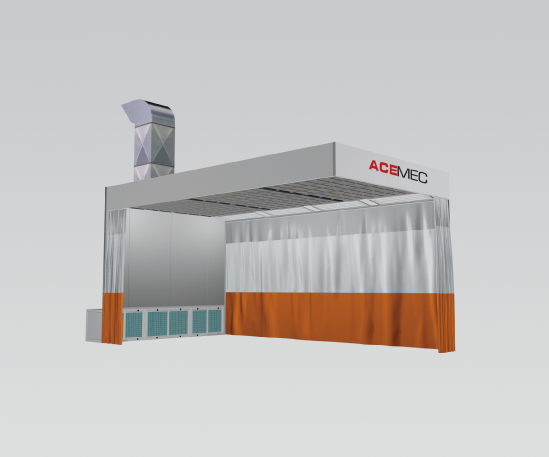 Side Draft Preparation Booth in Dubai, UAE
No:1 Quality Side Draft Preparation Booth from ACEMEC are supplied all over UAE. A side downdraft paint booth is ideal for firms who are unable to construct a pit.
This device is built to suck filtered ceiling air down through the booth, giving clean air to the inside. Rather from being dragged into a pit in the floor, filtered air is drawn down both sides of the booth's walls.
An exhaust fan and a filter bank are located on either side wall of the booth to absorb overspray. The air flows evenly to either side of the cabin with this arrangement.
We are highly experienced in Side Draft Preparation Booth   installation and offer this service for both new and used spray booths. Our installation services include all related electrical, gas and mechanical installation, duct work and building alterations.
Our staff are highly skilled in spray booth installation, training and accreditation including current CSCS, IPAF, PASMA and FLT tickets, high risk confined space qualifications and advanced first aid for the welfare of our teams on site.
Features of Side Draft Preparation Booth
The construction Side Draft Preparation Booth are made of high-quality galvanized steel.
Product doors are hung on slotted hinges in the field to allow for two-axis adjustability for uneven flooring.
Fluorescent light fixtures are included as standard in Side Draft Preparation Booth Lighting.
Fans and Motors are high-quality tube-axial fans and motors manufactured in the United States.
Solenoid Valve for Air Interlocked with the spray application equipment's exhaust fan and air supply.
ACEMEC Spray Booths offers Best Side Draft Preparation Booth installation in UAE, we also deal with Booth Installation and Relocation Services Dubai, UAE.
Based in Dubai, we are located centrally to serve a customer base across the United Arab Emirates.Our range of services include Installations, Relocations, Maintenance and Error Rectification.
We offer these best Spray Paint Booth services from all leading paint spray booth manufacturers.
Who we are?
We   ACEMEC,   Suppliers of the Best  Spray paint booth installation in UAE, have a proven track record of delivering well-designed, cutting-edge paint booths and equipment that meet your needs.
We work with our customers on a variety of projects and return time and time again to service their equipment, update their finishing lines, and replace old booths.
We take great care in instructing our customers on how to use the equipment and technology we install, and we stay up to date on industry trends. We aspire to provide the highest quality Spray paint booth installation in UAE.