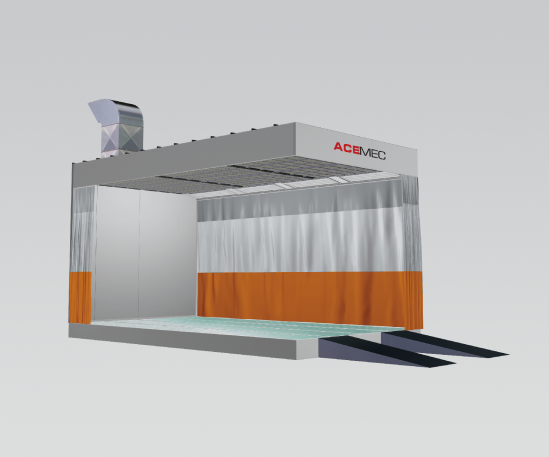 Downdraft Preparation Booth in Dubai, UAE
100% Super secure Downdraft Preparation Booth in Dubai and all over UAE are supplied by ACEMEC. In a Downdraft Preparation Booth, air flows down around the item and into a pit, which is an open space beneath the object that is covered with a grate and allows air to pass through.
The pit is usually excavated from the building's infrastructure, or the entire booth is elevated on a platform. The   Booth design stresses cleanliness and quality when compared to other traditional spray paint booths.
Dust and other environmental pollutants that might attach to the part during spray application are greatly reduced by top to bottom airflow. After the coating is placed, there is less need for buffing or rework.
Despite the numerous benefits provided by the   Booth design, there are a few noteworthy drawbacks owing to the expense of installation and operation. Downdraft booths take up more room and use more air volume than many other types of booths.
This translates to greater air make-up units, exhaust fans, filter area, and horsepower. As a result,   Booth are more expensive than traditional Cross draft booths.
Advantages of the Downdraft Preparation Booth design :
Booth operations that are cleaner
Surface contamination of completed surfaces is kept to a minimum.
Worker safety has improved.
Usability flexibility
Ensures the best possible finishing conditions
ACEMEC Spray Booths offers Best Downdraft Preparation Booth installation in UAE, we also deal with Booth Installation and Relocation Services Dubai, UAE.
Based in Dubai, we are located centrally to serve a customer base across the United Arab Emirates. Our range of services include Installations, Relocations, Maintenance and Error Rectification.
We offer these best Spray Paint Booth services from all leading paint spray booth manufacturers.
Who we are?
We   ACEMEC,   Suppliers of the Best  Spray paint booth installation in UAE, have a proven track record of delivering well-designed, cutting-edge paint booths and equipment that meet your needs.
We work with our customers on a variety of projects and return time and time again to service their equipment, update their finishing lines, and replace old booths.
We take great care in instructing our customers on how to use the equipment and technology we install, and we stay up to date on industry trends. We aspire to provide the highest quality Spray paint booth installation in UAE.